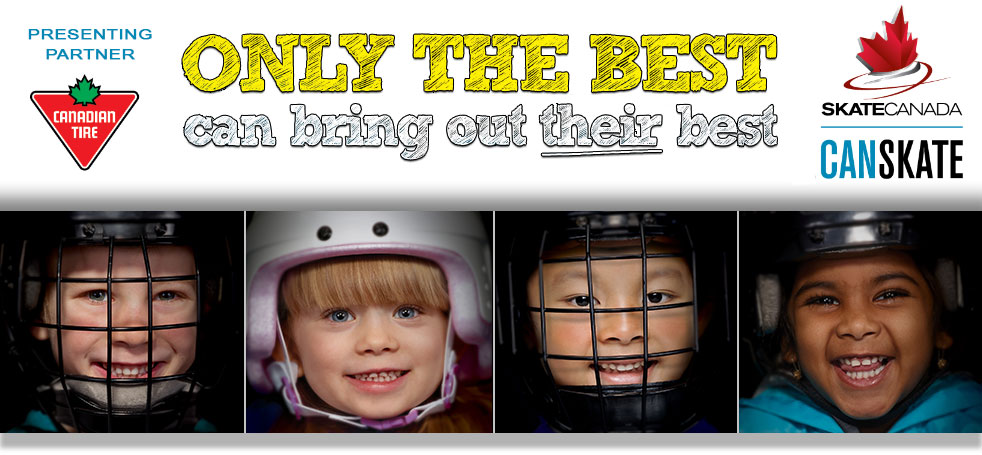 LEARN TO SKATE
Pre-CanSkate – for skaters 3 or 4 years of age
Our Pre-CanSkate program is designed to assist younger skaters, ages 3 and 4 to learn to skate. Participants learn to walk and gain balance to progress to gliding and then towards the fundamental movements on the ice.
The Pre-CanSkate programs run for the entire winter season – mid-September to end of March.
For the 2019-2020 season, skaters must be three (3) years of age by September 1, 2019.
The forty (40) minute program consists of a 10 minute off ice warm up and three (3) 10 minute lessons with 3 different coaches. Skaters will leave the ice and the end of the lessons.
As skaters progress and successfully pass the Pre-CanSkate level, they may choose to transfer to the CanSkate program. The change from Pre-CanSkate to CanSkate sees the skaters taking part in in the 50 minute CanSkate program including the on-ice warm up, the group activity and the on ice cool down.
There will be an additional fee for any skater that transfers from the Pre-CanSkate program to the CanSkate program. The program fees are pro-rated so the fee increase will be dependent on when the skater transfers programs.
Skaters earn ribbons and badges as skills are mastered.
CSA approved hockey helmets are mandatory for all CanSkaters.
For all of our CanSkate programs, our coaches are assisted by trained Program Assistants. Our Program Assistants attend a training course each year to ensure they have the skills necessary to assist our Professional Coaches to deliver a quality, safe program that is also fun for the children.